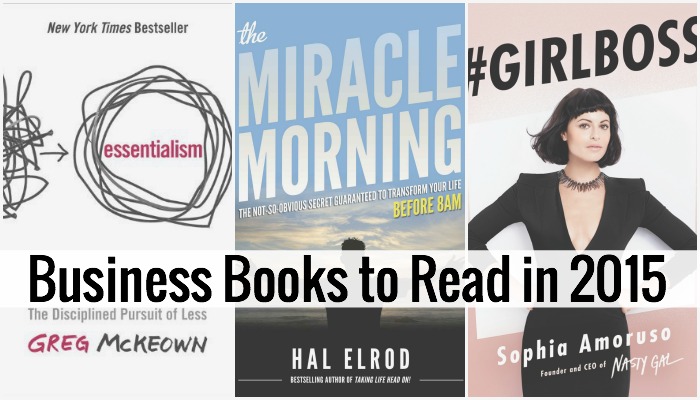 1. Essentialism: The Disciplined Pursuit of Less by Greg McKeown- This book has been recommended to me by a very good friend and I've heard great things about it from a few different podcasts, so of course is on my must read in 2015 list. This review should give you an idea of what it is all about:
"Entrepreneurs succeed when they say "yes" to the right project, at the right time, in the right way. To accomplish this, they have to be good at saying "no" to all their other ideas. Essentialism offers concise and eloquent advice on how to determine what you care about most, and how to apply your energies in ways that ultimately bring you the greatest rewards." — Reid Hoffman, co-founder/chairman of LinkedIn and co-author of the #1 NYT bestseller "The Start-up of You"
2. The Miracle Morning: The Not-So-Obvious Secret Guaranteed to Transform Your Life (Before 8AM) by Hal Elrod- I've seen a few business leaders I follow on instagram talk about The Miracle Morning, and it had me intrigued. I really like the idea of getting a solid morning routine down that will help me have successful days. I also plan to give this to my husband, he loves routine and making the best of his time. There a tons of amazing reviews that read much like this:
This book is a MUST read! Out of all the personal development books out there, The Miracle Morning ranks among my top 5 favorites. Hal Elrod's style of writing is such that its almost as if you're receiving sage advice from a personal friend. Every action you need to take to achieve success is clearly laid out with options to customize if you so choose. For anyone looking to take their business, their relationships, their health, or their life in general to the next level, The Miracle Morning is the book that will get you there. -Nicholi Gomez
3. Girl Boss by Sophia Amoruso- There has been a lot of buzz about this book so I figure I need to see what it is all about.
"Sophia Amoruso, founder and C.E.O. of Nasty Gal, shares her irreverent and invaluable lessons in what can easily be described as a power manifesto for strong, ambitious young women . . . #GIRLBOSS leads readers to water but doesn't force them to drink; rather than present a get-rich-quick manual or a list of business tips, Amoruso teaches the innovative and entrepreneurial among us to play to our strengths, learn from our mistakes, and know when to break a few of the traditional rules." —VanityFair.com
What business books are you planning to read in 2015?
Good nutrition is an substantial part of leading a wholesome lifestyle. How can medicines help us? Online is a cost effective way to order medications. What medicines do Americans get on the Internet? For example Temovate cream is a topical corticosteroid. This medication reduce itching associated with various skin conditions. There are numerous other medicinal products. If you're concerned about sexual health problem, you probably already know about when does cialis go generic. What consumers talk about generic cialis online? Perhaps you already know something about it. Happily most of problems with sexual soundness can be treated. In addition, there are several of explanations and soundness care professionals are usually able to pinpoint your problem through psychological tests. So if you are experiencing erectile problems, it is important to see a able health care purveyor instantly for a complete physical examination. Typically medications like Cialis has come under repeated attention, specifically regarding its interaction with some medicaments. Don't forget, the only way to avoid spurious drugs is to order formula drugs like Cialis from a well-thought-of web-site with which you are relaxed.