It's no secret we love male/dad bloggers. They have a voice that the blogging world and all of the world needs to hear.
Here are 5 posts we love that talk about being dad, becoming a dad and all things fatherhood.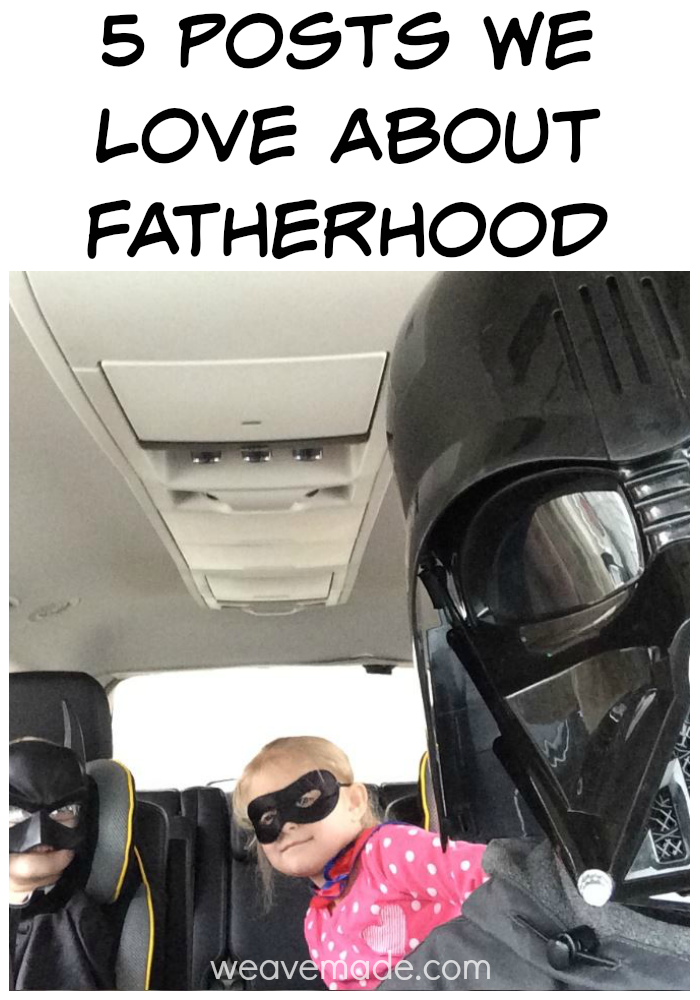 image credit: A Geek Daddy
This post, I'm not an exceptional dad, but am part of an exceptional dad movement, by Mike of Puzzling Posts is such a great read.
Most of us who are sharing our stories about raising boys or girls, raising toddlers or teenagers, fall into a category of dads trying to change fatherhood by being visible. Wake up in the morning and make your kids breakfast. Stay up late with a cloth on their heads because they have a fever and are worried they're going to "throw up on the floor." – Mike, Puzzling Posts
My Fatherhood Story by Justin of Lifein140.com is a great reminder that men have a story to tell too.
Fatherhood did not come in the timing that I had written out for myself. It thrust itself upon me and completely rearranged my life. I had two choices, accept it and embrace it, or run away from it. Running was never an option. – Justin, Lifein140.com
Daniel from Fit To Be Dad wrote a moving post after Dad 2.0 Summit, I Took More than Just Shwag from the Dad 2.0 Summit. Daniel shares how as a young boy he was lucky enough to have his dad at home with him, to show him what a good father was.
My dad taught me things that I still remember to this day. Little nuggets of knowledge which, while they won't be used to save the world, remind me constantly of how the smallest things can really have lasting impressions on a child's life.- Daniel, Fit To Be Dad
The Definition of a Good Dad by Doyin of Daddy Doin Work was a great read and part of the #LeanInTogether campaign.
A good man shows his daughters that he's willing to share the load.

Cooking, vacuuming, and doing laundry are all activities that I make a point to do in my household. I don't complete these tasks just because it's "fair" to my wife, I do it because I want my girls to see that we share all responsibilities when it comes to our family. That means domestic duties, childcare duties, financial duties, and other duties as assigned. Ain't nobody got time for antiquated gender stereotypes. It's always all hands on deck, no matter what the situation entails.
This article by Cosmopolitan, Men Want Work-Life Balance too, helps tell the story of a new generation of men.
The case for balance is clear. When couples share more evenly in breadwinning and domestic work, their risk for divorce goes down by about half … and they have more sex. Children with active fathers are happier and healthier and have higher aspirations. "Men want this. Women want this," says Mulligan. "Our challenge is standing up against the stigma."
If you have a story on fatherhood please share it with us via a comment or tweet us at @weavemade!
Good nutrition is an substantial part of leading a wholesome lifestyle. How can medicines help us? Online is a cost effective way to order medications. What medicines do Americans get on the Internet? For example Temovate cream is a topical corticosteroid. This treatment reduce itching associated with different skin conditions. There are numerous other medicinal products. If you're concerned about sexual soundness problem, you probably already know about when does cialis go generic. What consumers talk about generic cialis online? Perhaps you already know something about it. Happily most of problems with sexual health can be treated. In addition, there are several of explanations and health care professionals are usually able to pinpoint your problem through psychological tests. So if you are experiencing erectile problems, it is great to see a qualified health care purveyor instantly for a complete natural examination. Typically medications like Cialis has come under repeated attention, specifically regarding its interaction with some medicaments. Don't forget, the only way to avoid spurious drugs is to order recipe drugs like Cialis from a well-thought-of web-site with which you are relaxed.