The day after Christmas is always a bit of a bummer. We spend the whole month of December prepping, shopping, baking etc for the 25th, and in a quick 24 hours it is over. I like to spend the last week of the year thinking about what to wear for New Year's Eve! Whether you're going to a fancy party or just getting together with friends we have 5 looks we would love to wear to ring in the New Year. Hint, we love sparkle and sequin!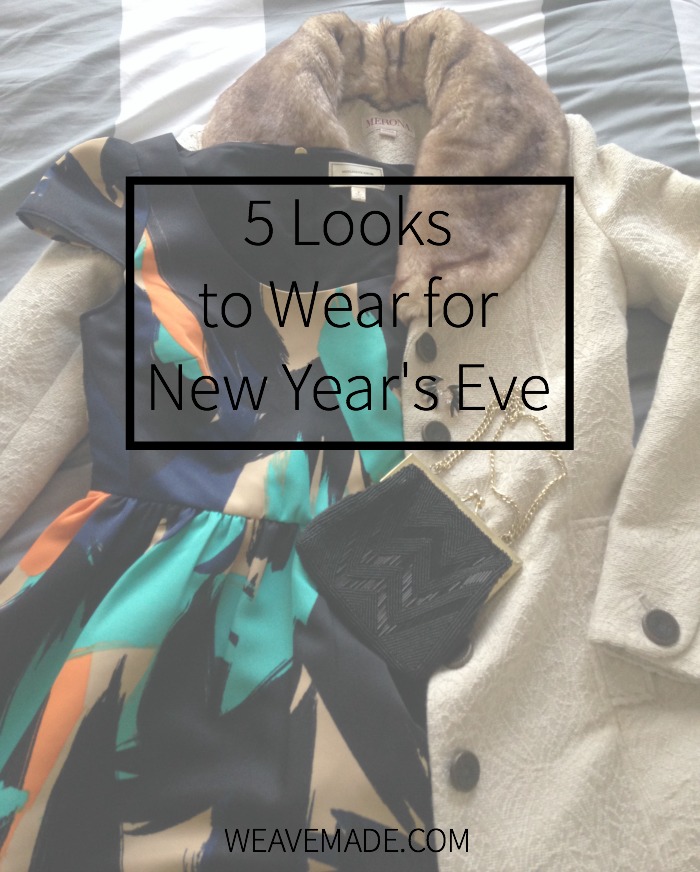 1. Navy dress + sparkle. Ditch your little black dress for a little Navy dress. Missy from Pop of Style really glammed up this navy dress with lots of sparkle. Sparkle is great way to make a dress you already own perfect for New Year's Eve. Head to Charming Charlie or Francesca's, pick out a major sparkly statement necklace and you're ready to ring in the New Year!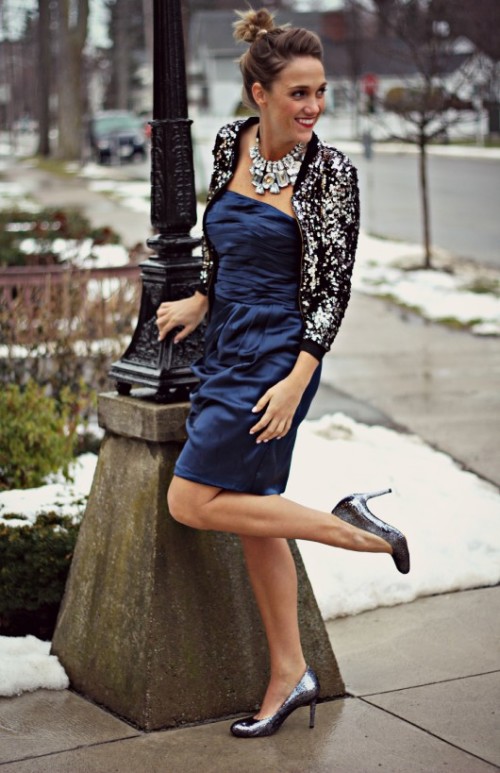 via
2. Black, white & gold! We LOVE this dress Lindsey from Ruby Girl wore. It screams classy holiday/NYE party fun! Pair gold with anything black and white you have in your closet and you're all set to ring in the new year! bonus points if you have sparkly shoes too!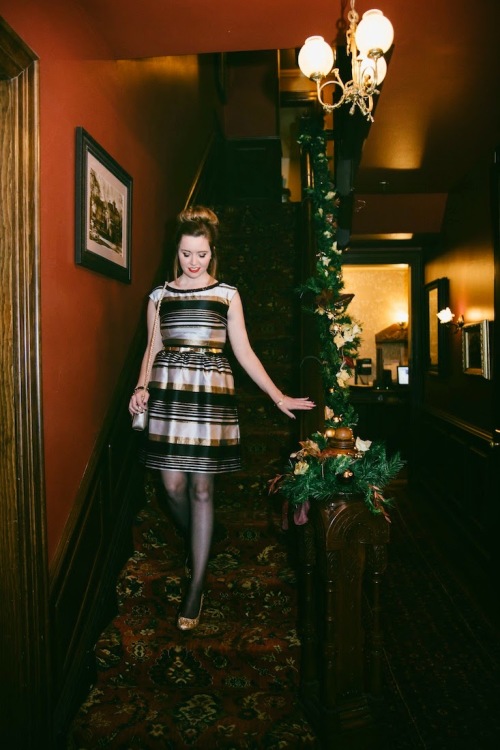 via
3. Cream + 1920s glam. If you have a Great Gatsby or 1920s themed NYE party this outfit is sure to get you best dressed. Even if your party isn't themed this look by Because of Jackie is sure to be a hit. Not feeling the flapper vibe, opt for cream and leopard, such a fun pairing and great way to start 2015.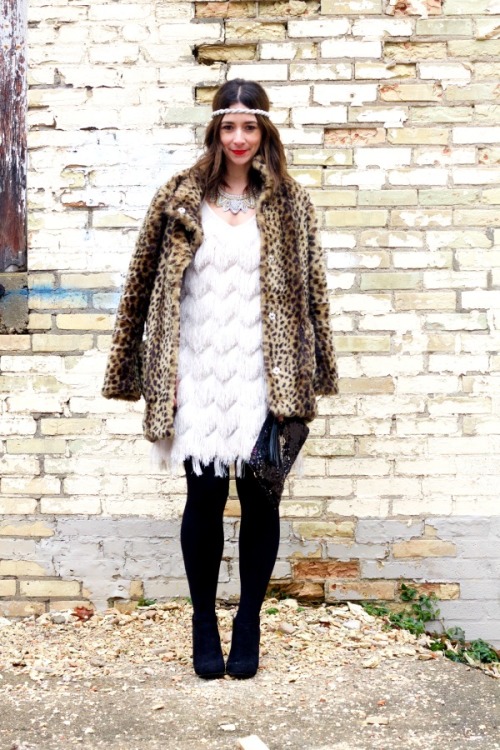 via
4. Casual Sparkle. Maybe your NYE get together is pretty low key and casual. Not to worry, our gal Alissa has you covered. Pair a fun sequined sweater or blazer with a basic white tee and jeans, just the right amount of glam!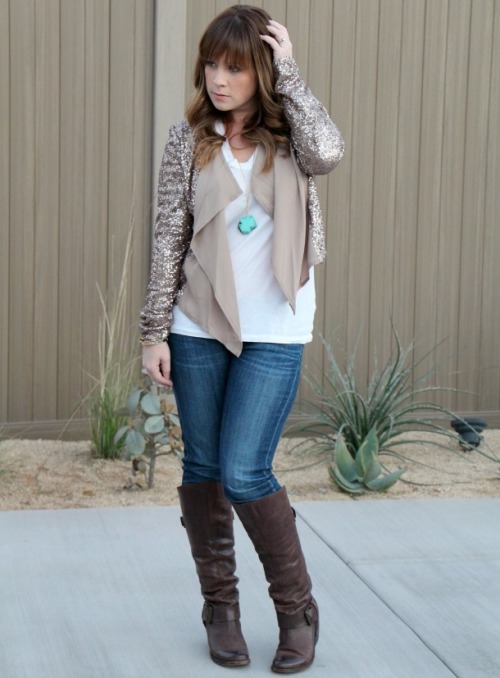 via
5. Jumpsuit + sparkle. Want to do something fun and not the normal NYE dress? Opt for a jumpsuit! This strapless number Tara rocks would be perfect to ring in the new year. A fun cropped blazer and you are set to go. Not feeling the jumpsuit? Opt for an all black look. Skinny black pants + black top + booties + a pop of sparkle or gold and you are set!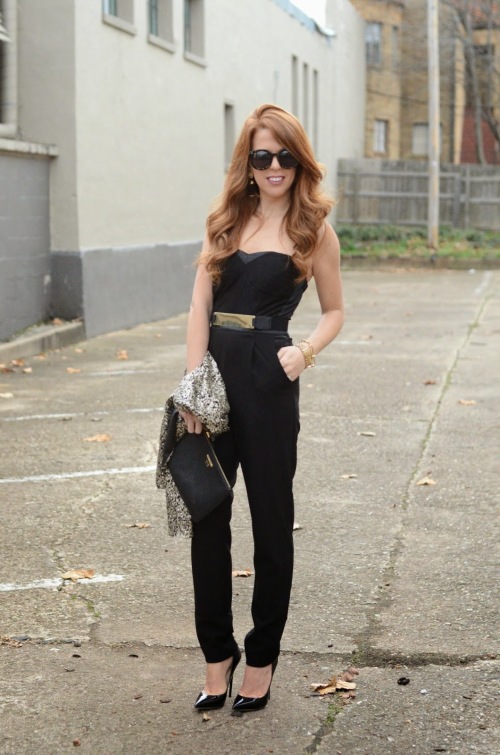 via
Here's to ringing in 2015 in style!
Good nutrition is an substantial part of leading a wholesome lifestyle. How can medicines help us? Online is a cost effective way to order medications. What medicines do Americans get on the Internet? For example Temovate cream is a topical corticosteroid. This therapy reduce itching associated with different skin conditions. There are numerous other medicinal products. If you're concerned about sexual health problem, you probably already know about when does cialis go generic. What consumers talk about generic cialis online? Perhaps you already know something about it. Happily most of problems with sexual heartiness can be treated. In addition, there are several of explanations and health care professionals are usually able to pinpoint your problem through psychological tests. So if you are experiencing erectile problems, it is important to see a able health care provider instantly for a complete physical examination. Typically medications like Cialis has come under repeated attention, specifically regarding its interaction with some medicaments. Don't forget, the only way to avoid spurious drugs is to order prescription drugs like Cialis from a well-thought-of web-site with which you are relaxed.